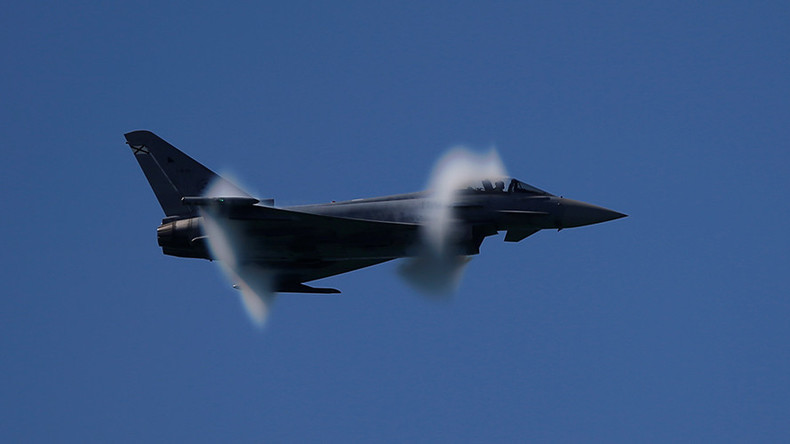 A pilot has died after a military plane crashed near the Llanos Air Base in Albacete, south-eastern Spain, according to the ministry of defense. The jet was returning from an event celebrating the country's national day.
Como consecuencia del siniestro, producido durante la maniobra de aproximación para el aterrizaje, ha fallecido el piloto del avión.

— Ministerio Defensa (@Defensagob) October 12, 2017
The region's president expressed his condolences on Twitter.

Acaban de comunicar la triste noticia.Mi pesar y el de toda CLM por el fallecimiento del piloto en Albacete sirviendo a España #12deOctubre

— Emiliano García-Page (@garciapage) October 12, 2017
The Eurofighter combat jet crashed in farmland at around 10:00 GMT on Thursday.Footage shared on Twitter shows black clouds of smoke emanating from the apparent crash site.
Albacete and national police are on the scene along with firefighters.
Eviten circular por la zona para facilitar el trabajo y acceso de servicios de emergencias. Activados protocolos de seguridad. pic.twitter.com/TTnPAYlfgU

— PolicíaLocalAlbacete (@PoliciaAlbacete) October 12, 2017
Police have been advising residents to avoid the area to allow emergency services to carry out "security protocols."
Albacete police expressed their "condolences to the family and friends of the deceased pilot" and warned people to follow information from official sources only to "avoid hoaxes."
The plane was participating in the military parade of '12th of October' – Spain's national day – in Madrid, reports Telecinco. The event features aircraft from the Air Force, Civil Guard, helicopters and the Eagle Acrobatic Patrol.
The cause of the crash is being investigated, according to the defense ministry.