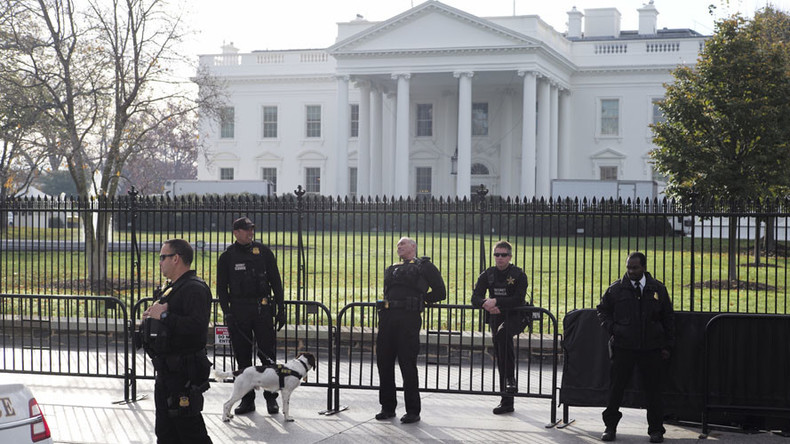 A person has been detained following "suspicious activity" at the north fence of the White House, the Secret Service tweeted. The presidential manor was put on lockdown and the area along Pennsylvania Avenue was closed following the incident.
Reporters were told to leave the north lawn of the White House, CBS News said.
North fence line of @WhiteHouse is closed due to suspicious activity, Uniformed Division is responding.

— U.S. Secret Service (@SecretService) November 3, 2017
Although the Secret Service declined to immediately elaborate on the incident, Washington DC police spokeswoman Margarita Mikhaylova said authorities are investigating a suspicious package outside the White House, according to the Washington Post.
A suspect called in a threat stating that explosives had been planted along the north fence, WTTG-TV reported citing police.
Update: subject is in custody, Lafayette Park & North Fence line along Penn. Ave. remain closed.

— U.S. Secret Service (@SecretService) November 3, 2017
President Donald Trump is not currently at the residence, as he is en route to Hawaii before heading on his first presidential visit to Asia.
Air Force One is wheels up as Pres. Trump heads to Hawaii, Japan, the Republic of Korea, China, Vietnam, & the Philippines. #POTUSinAsia

— The White House (@WhiteHouse) November 3, 2017
The Friday incident is not the first time the White House has been placed on lockdown since Trump took office. In September, there were two incidents within two days. The first lockdown was due to a man who threw a sign and a notebook over the fence on Pennsylvania Avenue, while the second occurred due to a suspicious package.
A person who jumped a bike rack serving as a barrier on the north fence line was taken into custody in May.