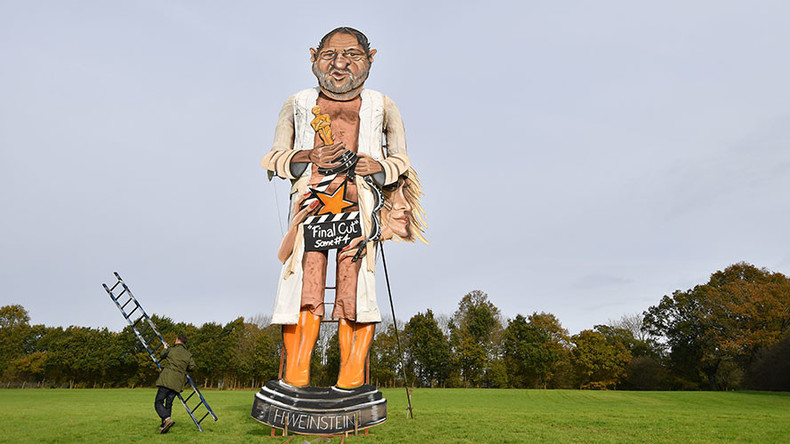 Thousands of revellers have flocked to the burning of an effigy of Harvey Weinstein after a sleepy Kent village found an unusual way to mark its annual Guy Fawkes Night celebrations.
Friends of the Hollywood producer have seen their impressions of him go up in smoke in recent weeks, after a wave of harassment allegations, including accusations of rape and other sexual misconduct against actresses and other women. Now, Edenbridge Bonfire Society have found a way to give that a more literal representation.
"Weinstein was the obvious option due to allegations of outrageous and despicable conduct, which we at Edenbridge Bonfire Society obviously found completely abhorrent," the group said in a statement to Vice prior to the event.
In a video of the event posted to the group's Facebook page, the master of ceremonies assures the crowd that the event was not designed to point fun at Weinstein's alleged crimes, but then goes on to ask what they wanted to do with his 36ft effigy. The crowd then respond with a shout, saying in unison: "Burn him!"
The effigy is then duly burned and followed by a fireworks display. RT.com has contacted Edenbridge Bonfire Society for comment.
The event, which attracts around 10,000 people every year, began with a torch-lit procession through Edenbridge, led by the "Bishop of the Bonfire," his choirboys and the society's effigies, which also included the more traditional Guy Fawkes. Visiting bonfire societies from Sussex also took part in the march.
Other celebrities' effigies burned at past events include Donald Trump, disgraced cyclist Lance Armstrong and former FIFA President Sepp Blatter.
Guy Fawkes Night marks the date the Catholic dissident attempted to blow up the Houses of Parliament with gunpowder in 1605. Fawkes was part of a plot that attempted to to kill King James I and put a Catholic monarch on the English throne.